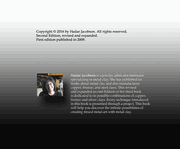 The first edition of this book was sold out in less than three years. Since a lot has happened in the field of metal clay since then, this second edition, in the form of a CD, was created as a revision and expansion of the first edition, to accommodate these changes. It is brand-free, and suitable for beginners and advanced users of both precious and base metal clay. Each project is presented in PDF format, as are the title page, Table of Contents, and Index.



Please read our Shipping, Insurance and Returns policy before proceeding with your order.



© Copyright 2023 Hadar Jacobson - All Rights Reserved
Hadar's Clay™ is a trademark of Hadar Jacobson.